Sept. 1 -- Eastman Kodak Company announced today that its innovative EASYSHARE-ONE zoom digital camera would be available for purchase this October, coinciding with the beginning of the holiday shopping season. Since it was announced earlier this year, the EASYSHARE-ONE model - the world's first Wi-Fi consumer camera - has won hundreds of accolades from industry organizations and consumer electronics writers for its groundbreaking design and functionality, making it one of the most talked about digital photography products in years.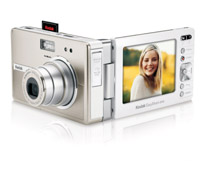 The KODAK EASYSHARE-ONE camera does more than just incorporate basic Wi-Fi functionality. It combines Kodak's signature ease-of-use with groundbreaking technology to give people a single, innovative device for sharing, taking, organizing, and printing pictures, said Mary Hadley, general manager, digital cameras, Eastman Kodak Company.
With its ability to send e-mail from the camera, to connect to the KODAK EASYSHARE Gallery at home and on-the-go from thousands of public hotspots worldwide, to store up to 1,500 favorite pictures, and to simplify viewing and operation via its unique touch screen and graphical menus, the EASYSHARE-ONE camera marks a new era in digital photography. As the ultimate picture sharing device, it delivers a completely new digital photography experience unmatched by any other camera.
The company has also developed a new, interactive tour of the EASYSHARE-ONE camera, available at http://www.kodak.com/go/easyshare-one. In addition to providing 360-degree views of the camera, the MACROMEDIA FLASH micro-site highlights the multiple ways in which people can easily share, take, edit, organize, and print their pictures - all wirelessly.
Hotspot Providers and Retailers Prepare
Kodak is working with the world's leading wireless companies to make sharing pictures across town, across the country, or across the globe as easy and convenient as possible. All EASYSHARE-ONE camera purchasers receive a complementary, camera-specific trial service in conjunction with major hotspot providers. In addition to service from T-Mobile USA, with more than 6,000 T-Mobile HotSpots across the United States, EASYSHARE-ONE camera owners will also be able to enjoy public connections in other key world markets. Kodak plans to announce further market-specific service providers, as well as retailers that will sell the EASYSHARE-ONE camera, in the coming weeks.
Global Praise
The EASYSHARE-ONE camera continues to win global praise for its multi-faceted innovation. In addition to receiving extremely high praise from hundreds of journalists and analysts, it has also won some of the consumer electronics industry's top awards, including:
• Next Big Thing 2005 from C|NET
• Best of CES: Picture Perfect from G4techTV
• Editor's Choice from American Photo
• Innovative Digital Product from the Digital Imaging Marketing Association
• Best of CES – Show Star from Stuff (U.K.)
From Point-and-Shoot to Point-and-Share
Kodak designed the EASYSHARE-ONE model (US$599 MSRP, including the KODAK WI-FI® Card) specifically for sharing, moving the camera experience from point-and-shoot to point-and-share. It incorporates multiple benefits that avid picture sharers could only dream of until now, including:
• E-mail and online picture sharing without a computer, using a direct, wireless connection to the KODAK EASYSHARE Gallery service. By connecting to the Gallery through a compatible home or public network*, people can upload pictures and videos for near instantaneous electronic sharing with friends around the world.
• On-the-spot sharing of up to 1,500 favorite pictures, synchronized with a person's PC-based picture collection, thanks to a huge, 3-inch, high resolution, rotating LCD touch screen that's protected when not in use, plus a generous 256 megabytes of internal memory†. In addition, when connected wirelessly to the KODAK EASYSHARE Gallery, EASYSHARE-ONE camera owners can also view thousands more of their pictures stored online, including albums shared by their friends and family.
• Significantly enhanced ease-of-use for picture sharing and taking, including the ability to create on-camera albums in which to store pictures, intuitive menu options with touch screen selection, automatic organization of pictures by date taken, and even richer, graphical scene modes to help get the best possible picture in a variety of outdoor and indoor environments. The dynamic user interface was developed in MACROMEDIA FLASH, a first for digital cameras.
• Wireless picture printing with KODAK PERFECT TOUCH Technology when used with the new KODAK EASYSHARE snapshot printers (optional KODAK WI-FI card required for the printer).
• Pictures with professional-quality color and sharpness, with the use of a renowned SCHNEIDER-KREUZNACH C-VARIOGON 3X optical zoom lens (36 – 108 mm equivalent), a 4-megapixel sensor, and the exclusive KODAK Color Science image processing chip.
• Smooth, vibrant video taking and sharing, with its built-in high frame-rate motion and sound recording, plus the ability to share those videos via the KODAK EASYSHARE Gallery.
• Premium customer service from Kodak, providing EASYSHARE-ONE model owners with priority inquiry handling, assistance with the camera's wireless setup and operation, and other benefits made available to only these customers.
The innovative KODAK EASYSHARE digital photography system - consisting of cameras, viewers, software, docks, home snapshot printers, services, papers and accessories - makes taking, organizing, sharing, and printing high quality digital pictures effortless. More information on KODAK EASYSHARE products is available at
www.kodak.com/go/EasyShare
.
About Eastman Kodak Company
Kodak is the leader in helping people take, share, print and view images – for memories, for information, for business, and for entertainment. With sales of $13.5 billion in 2004, the company is committed to a digitally oriented growth strategy focused on four businesses: Digital & Film Imaging Systems – providing consumers, professionals and cinematographers with digital and traditional products and services; Health - supplying the medical and dental professions with traditional and digital imaging and information systems, IT solutions and services; Graphic Communications - providing customers with a range of solutions for prepress, traditional and digital printing, and document scanning and multi-vendor IT services; and Display & Components – supplying original equipment manufacturers with imaging sensors as well as intellectual property and materials for the organic light-emitting diode (OLED) and LCD display industries. More information about Kodak (NYSE: EK) is available at
www.kodak.com.
* At launch, the KODAK EASYSHARE-ONE camera will be compatible with most in-home and public Wi-Fi networks that support 802.11b technology, with the option to enable 64- and 128-bit WEP security. 802.1x support and WPA security is planned for a future firmware release.
† Up to 1500 images, marked as Favorites, optimized for viewing on the camera. 256 MB internal memory/185 MB available for picture storage (1 MB equals one million bytes).
Kodak, EasyShare, EasyShare-one and Perfect Touch are trademarks of Eastman Kodak Company. Schneider-Kreuznach, and Variogon are trademarks of Jos. Schneider Optische Werke GmbH used under license by Eastman Kodak Company. Wi-Fi is a registered trademark of the Wi-Fi Alliance.
2005